PVC Reusable Hot & Cold Pad
Product Description
Payment & Shipping Terms
Supply Capacity
Payment Terms:
L/C, T/T, Cash
Delivery Date:
20-25 days
Min. Order:
5000 Piece/Pieces
Means of Transport:
Ocean, Air, Land
PVC Reusable Hot & Cold Pad (Ice Pack)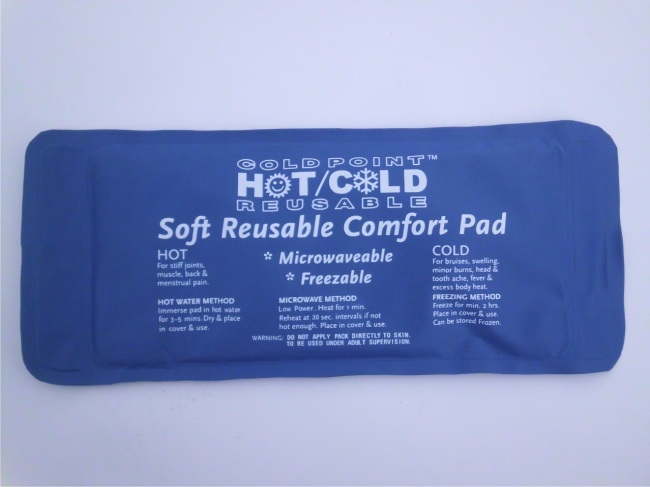 FEATURES
1. This product is made of biological material by high-tech process. It is clean and nontoxic.
2. This product can be used repeatedly.
3. Longer lasting temperature than normal water bags
4. This product has a high cold capacity, so excels in keeping constant temperature.
5. Does NOT turn into solid after refrigerated.
APPLICATION OF COLD PACK
Applying cold to a sprain or swelling immediately after the incident causes the blood vessels to constrict. Thus the application of cold pack can decrease the bruises associated with injuries.

Moreover, professional sportsperson often apply ice to their muscles immediately after sporting events to reduce inflammation and minimize pain. Cold pack or ice pack is used for acute injuries such as a knee sprain, post-operative treatments, or any type of swelling. In addition, it can also numb the area of pain, creating a soothing effect.

APPLICATION OF HOT PACK
Heat relaxes muscles and improves blood circulation. Heat also produces a soothing effect on the body, further aiding in the healing process
OTHER APPLICATION OF ICE PACK

1. Can be used in long-distance cold storage and transportation of biochemical reagent, veterinary drug, plasma, vaccine, aquaculture product, and keeping-fresh food.

2. Fever relief

3. Keep refrigerator at the refrigerating temperature for a longer period during power outage.

Cold Use:
Put this product into freezer to be refrigerated in advance for a minimum of 2 hours, and then use as refrigerating media when needed.

Precautions:
Put the ice bag in a flat place or shape the according to demand before refrigerated.

Hot Use:
Hot Water Method:
Immerse the product into boiled water for 3-5 minutes, dry with cloth and place in cover & use.

Mircrowave Method:
Heat for 1 minute with low power. Reheat for 30 seconds interval if needed. Place in cover & use.

WARNING:
Do not apply pack directly onto skin, to be used with adult supervision.

Category: Hot & Cold Compresses and Ice Packs