Moose Pattern Reusable Instant Hot Pack
Product Description
Payment & Shipping Terms
Supply Capacity
Payment Terms:
L/C, T/T, Cash
Delivery Date:
20-30 days
Min. Order:
5000 Piece/Pieces
Means of Transport:
Ocean, Land
Moose Pattern Reusable Instant Hot Pack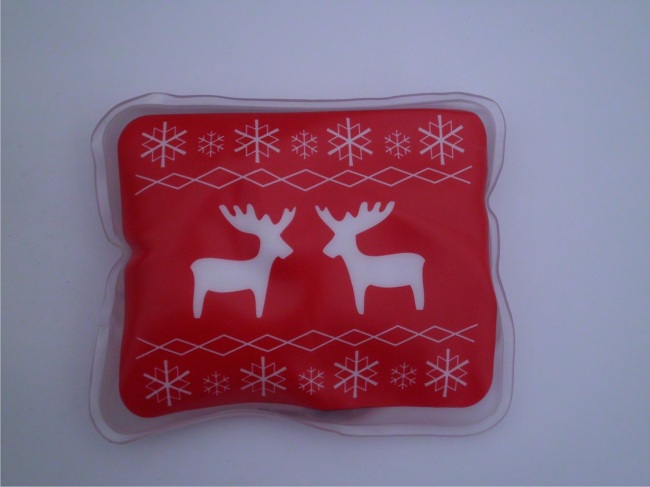 This product is a Reusable Instant Hot Hand Warmer; It is an excellent warming product in winter and lovely item for winter promotion. It could supply warmth in Anywhere! Anytime! And they can be reusable many times. No batteries are needed.
Features & Characteristics:
● Maximum temperature of 52℃.

● Long lasting temperature, for this size, the warmness can last for about 15-20 minutes (depending on environmental temperature and condition).

● Safe, without side effect, and non-toxic (but cannot be ingested).

● Unique design and special anti-leaking design.

● OEM order is most welcome.

● Can be reused, environmental friendly.

● No need to heat in advance, and is convenient to carry and store.

●Reusbal and colour-changing

How to Use:
1) Flex the metal disc inside the liquid until crystals form.
2) Massage the pack to soften the crystal for longer lasting temperature and more comfortable experience
3) Apply the Instant Hot Pack on desired area with or without wrapping a cloth around the product

How to Reuse:
1) Boil water in a pot
2) Wrap the Instant Hot Pack with a cloth to avoid direct contact with the pot

3) Place the pack (with wrapped cloth) inside the pot and continue boiling the water until ALL crystals are dissolved and only transparent liquid remains (usually around 20 minutes).

4) Remove the pack (with tongs) from the boiling water and make sure all crystals have dissolved (hold it up against the light to check), or it will trigger the heating again.

5) Place the Instant Hot Pack on a cloth to cool down, or wrap the product with cloth and apply to desired area (be cautious with high temperature).

6) When the liquid pack cools down, it is ready to be used again.

CAUTION!!!
Be cautious of the water temperature and the temperature of the Instant Hot Pack while removing it from hot water.
Avoid direct contact with internal material, however, if contacted with the gel within, wash the contacted area with soap and water. If irritation continues, seek medical help.
Note:
●If the crystals begin to form while the product is cooling down, it means the crystals from previous reaction didn't dissolved completely and must be re-boiled.

● If flex the metal disc while the product is still hot from boiled water, the reaction will be incomplete and must be re-boiled. Therefore, please wait until the product has fully cooled before flexing the metal disc to activate.
Category: Instant Hot Gel Pack