Hot and Cold Gel Pack (Turtles)
Product Description
Payment & Shipping Terms
Supply Capacity
Payment Terms:
L/C, T/T, Cash
Delivery Date:
20~25 days
Min. Order:
5000 Piece/Pieces
Means of Transport:
Ocean, Land
Reusable Instant Hot Pack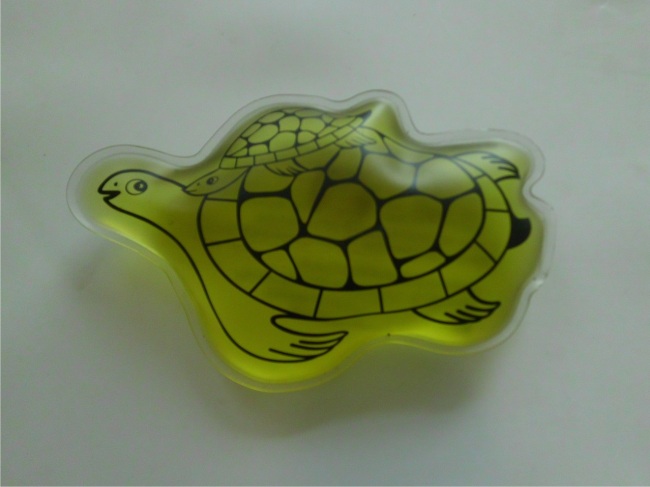 This Cold n Hot compress designed specifically for kids to attract their attention.The special formula inside enalbes the gel to not freeze into solid when placed in the freezer. This allows the pack to remain flexible and cold when used for cold therapy and allow the pack to have maximum contact with the needed area.

[Effect]
Ice compress prevents the injured area from inflammation and ease the joint pain or bruises; apply the product to injury
Hot compress can promote the blood circulation, relief your stress, increase body tempreature and also reduce muscle and joints soreness.
[How to use]
A. Cold compress:
Place it in the freezer for at least two hours and adjust the temperature to desired temperature by allowing leave it in room temperature for a few minutes or wrap with cloth.
Apply it on the required area for 5-10 minutes and repeat as required. Allow the skin temperature to return to normal between treatment.
B. Hot compress:
Soak the product into hot water for 5 minutes then remove with tongs.
[Notes]
1. It is made of environmental friendly nylon material.
2. If you touch the contents, please rinse it with water.
3. Pay attention after heating,if the temperature is too high, please be careful to use.
4. Please place it in the cool place.
5. Do not puncture, if broken, discontinue use
Category: Hot & Cold Compresses and Ice Packs